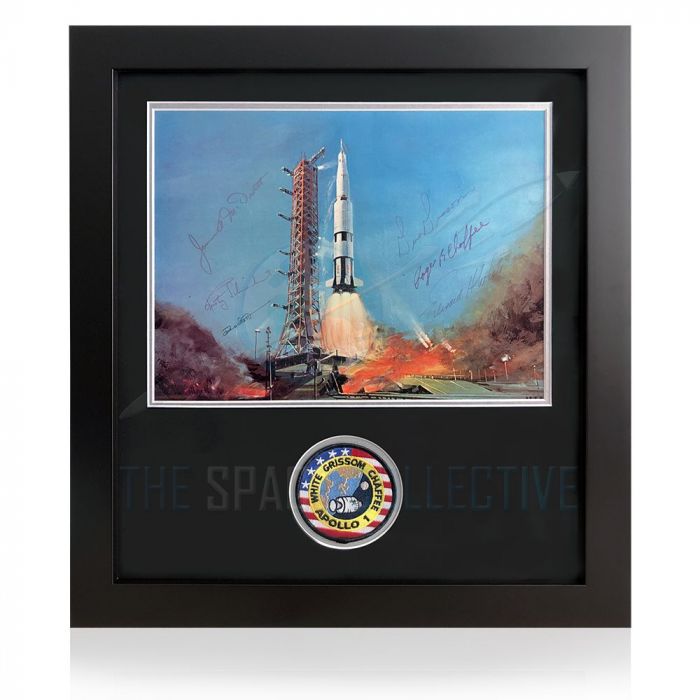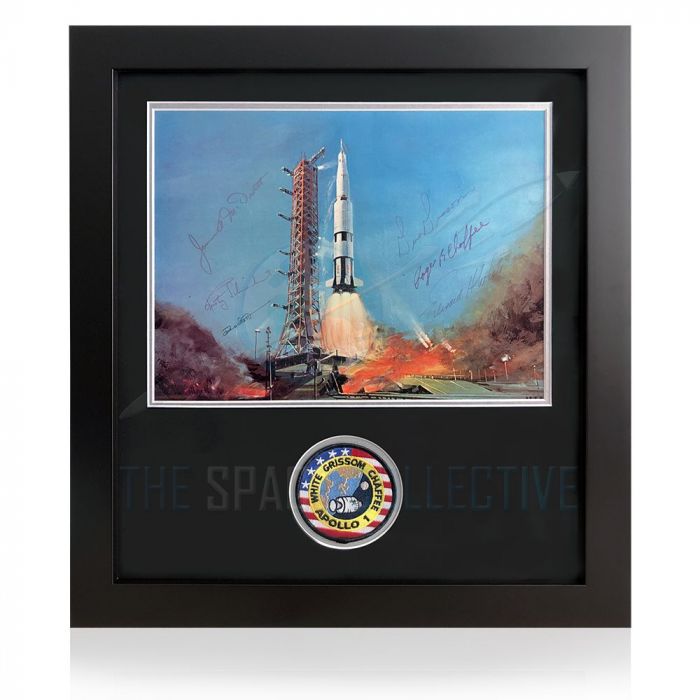 Apollo 1 Crew & Backup Crew Signed Saturn V Print
Genuine Apollo 1 crew and backup crew signed early-Saturn V concept art print. Comes with a letter of authenticity from Zarelli Space Authentication.
DESCRIPTION
This incredible early-Saturn V concept art print has been hand signed by both the primary and backup crews of Apollo 1, and is considered one of the rarest sets of astronaut autographs to exist. The rarity of this piece is in part due to the fact that so few pieces were ever signed by both the Apollo 1 primary and backup crews. It is not unusual to only come across a piece of this significance and rarity once in a decade.
Apollo 1 was intended to be the first mission in the Apollo Program to launch astronauts into Earth orbit. The actual flight was scheduled for February 21, 1967, but the crew tragically lost their lives as a result of a fire on the launch pad during a dress rehearsal test at Cape Kennedy Air Force Station Launch Complex 34 on January 27, 1967.
The signed print was expertly restored due to damage occurring over its 50 year history and preserved by Studio C so that no further degradation of the signatures or print would occur. After the restoration and conservation was completed, the print was framed using museum-quality acid-free materials and behind Artglass AR99 Acrylic™. 
Product Information:
Original restored early-Saturn V concept artwork print
Signed by primary crew members Gus Grissom, Ed White & Roger Chaffee
Signed by backup crew members Jim McDivitt, Dave Scott & Rusty Schweickart
Includes a letter of authenticity from Zarelli Space Authentication
Includes certificate of authenticity and lifetime guarantee
Framed using museum-quality materials
Framed behind Artglass AR99 Acrylic™
Artglass AR99 Acrylic™ information:
Artglass AR99™ has a reflection rating of ~1%, transmission ~97%, UV-protection ~99% and thickness of 2.5mm, making it the perfection choice for museums and museum-grade pieces as it allows for maximum protection while simultaneously allowing a crystal clear, unobstructed view of the artwork.
Authentication Information:
This autographed piece has been authenticated by third-party space authentication service Zarelli Space Authentication and has been confirmed as genuine.
Lifetime Guarantee of Authenticity:
All of our autographs are thoroughly researched before being listed for sale, so much so that we're proud to offer a lifetime guarantee of authenticity for this and other autographs listed throughout our website. We also hold a record of every piece we sell which can be identified and searched in our online database using the serial number listed on your certificate of authenticity.