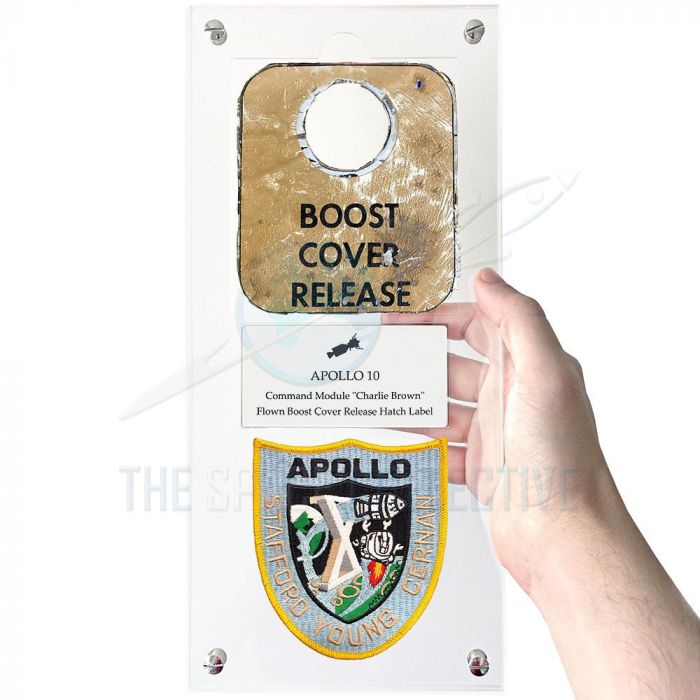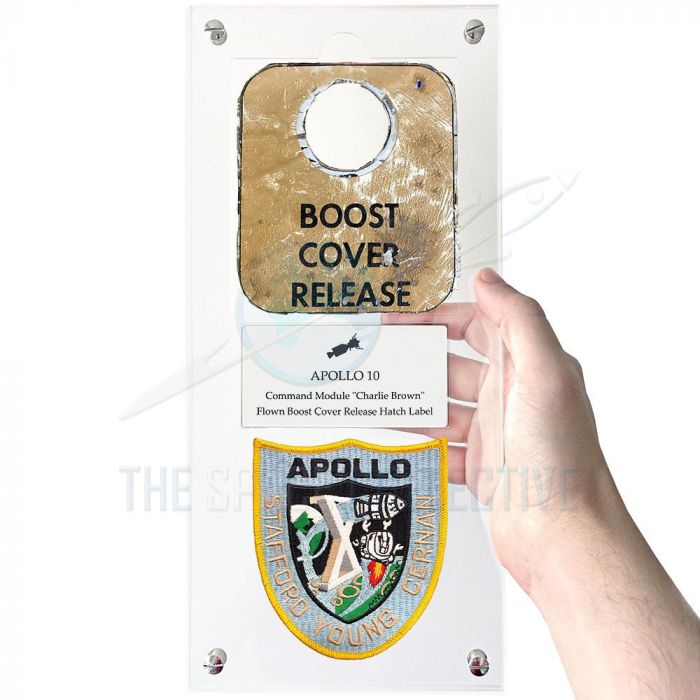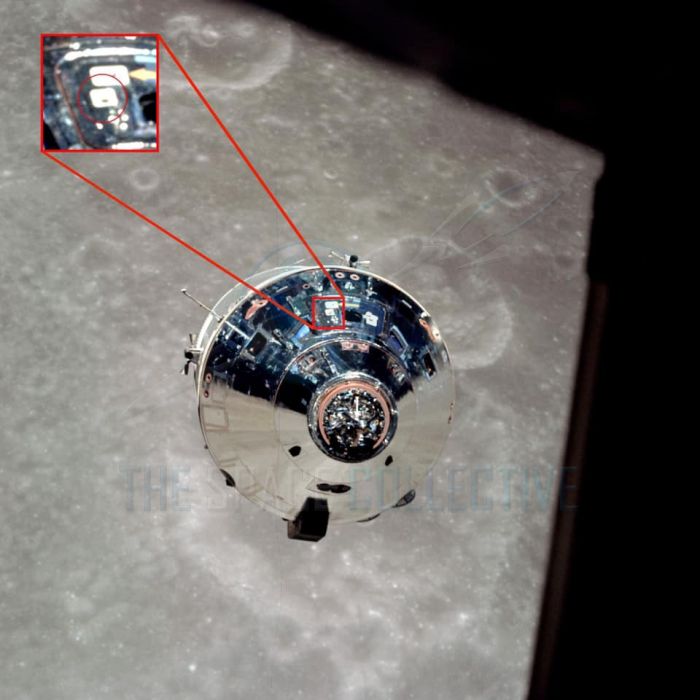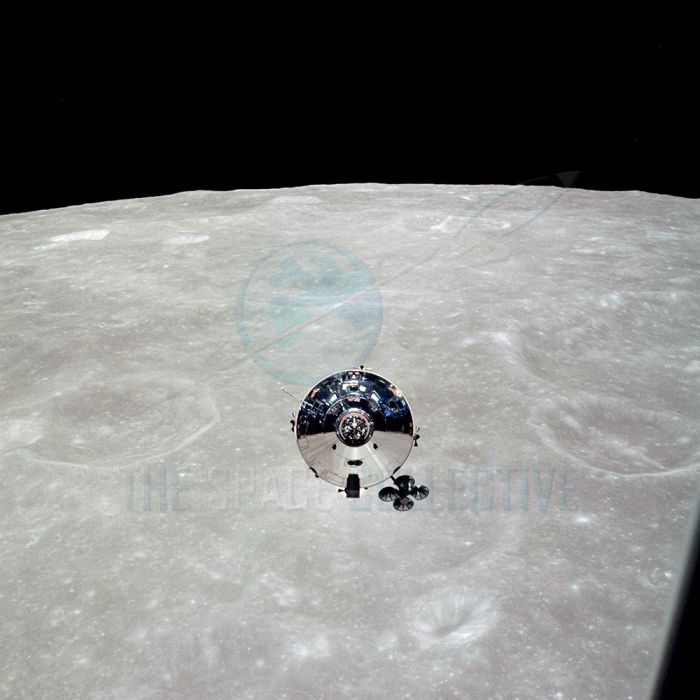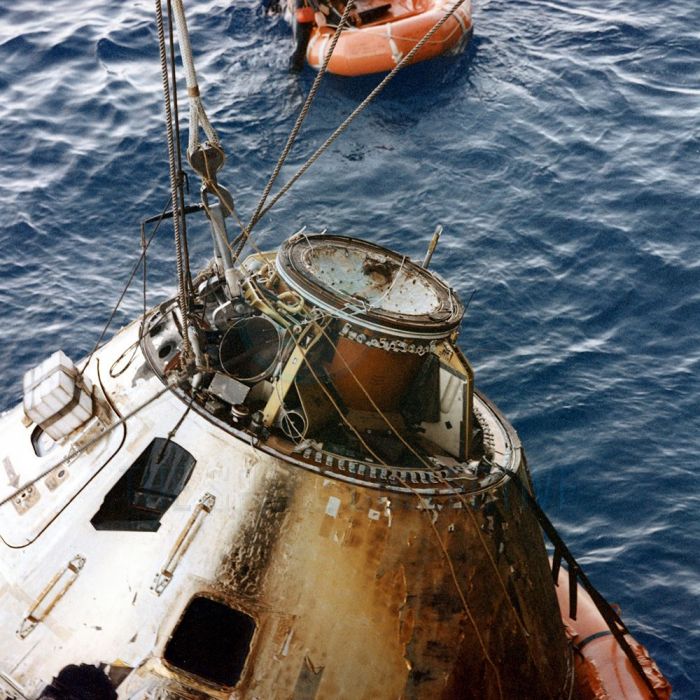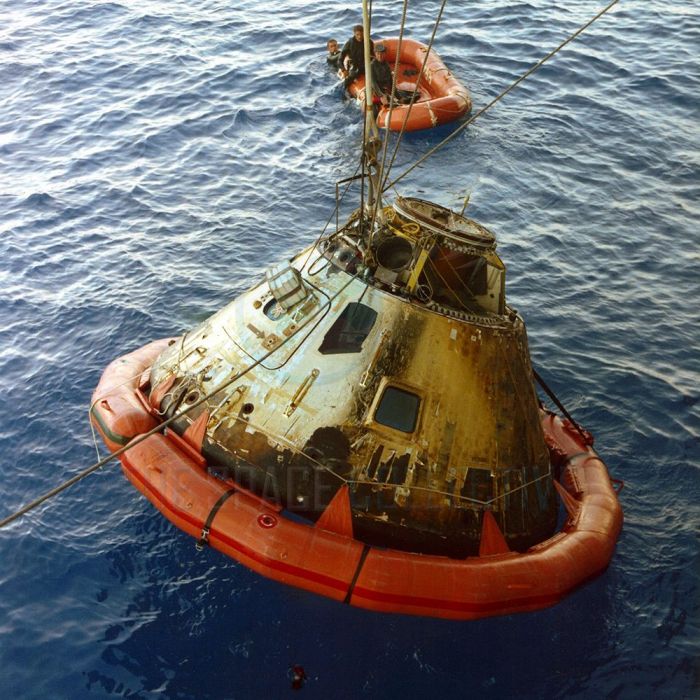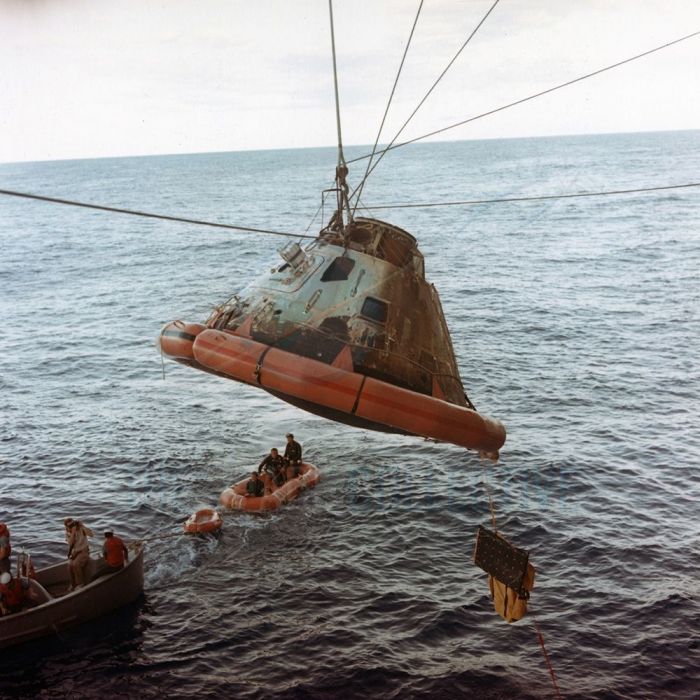 Apollo 10 CM Charlie Brown Flown Hatch Label
This is one of the rarest pieces of Apollo 10 history we have ever come across! This boost cover release label was originally from the Apollo 10 Command Module "Charlie Brown" astronaut access hatch and came from the collection of a North American Aviation employee.
An Apollo 11 hatch label sold at auction for $147,572 in 2017. You can view the label here.
DESCRIPTION
This hatch label was one of five attached to Charlie Brown's primary access hatch throughout the Apollo 10 moon landing rehearsal mission.
After returning to Earth, the Apollo 10 Command Module underwent decontamination and decommissioning. During this process, the kapton foil surrounding the spacecraft was removed and discarded, and the hatch labels were destined to meet the same fate. Remarkably, this one was saved and recovered by Chuck McKim and remained in his collection until we acquired it. Unusually, three of the five labels remain on the hatch to this day.
Through extensive research and photo matching, we can conclude with absolute certainty that this was the very same label from the Charlie Brown primary access hatch.
Includes:
Comprehensive research paper detailing all authenticating factors
Certificate of Authenticity with holographic logo and company stamp
Notarised Certificate of Authenticity from the collection source
Copy of further official documents, awards, and badges from the collection source
Comes protected in a museum-grade Perspex VA 004 acrylic display
Authentication Information:
The one-of-a-kind Apollo 10 Command Module hatch label was acquired by North American Aviation manager Charles "Chuck" McKim and comes complete with documentation, his employee documents, passes, and a comprehensive research paper from The Space Collective.
During WWII, Chuck joined the U.S. Navy, and his ship transported British and Canadian troops to Normandy on D-Day. In 1948, he was recalled to active duty and taught electronics at the Naval War College. He later joined North American Aviation, working as an electronics technician on various missile programs, including the Navaho G-26 and Hound Dog/B-52. He culminated his career as a Post-Flight Test Engineering Technician on the Apollo Program and was a member of the Recovery Team on the U.S. carriers that sailed out into the Pacific Ocean to recover the Apollo Command Modules after they splashed down. Chuck retired from NAA/Rockwell in 1975 at the conclusion of the Apollo-Soyuz Test Project.
Lifetime Guarantee of Authenticity:
Our artifacts are thoroughly and extensively researched before being listed for sale. Each artifact we sell bears an individual serial number that can be used to search our online database. We're proud to offer a lifetime guarantee of authenticity for all artifacts listed on our website.
About the Boost Cover Release:
The boost cover release label indicated to the ground crew where to insert the necessary tool to release the boost cover in the event of an emergency on the pad. This action would allow the ground team to egress the crew as quickly as possible; a system developed after the tragic Apollo 1 fire.