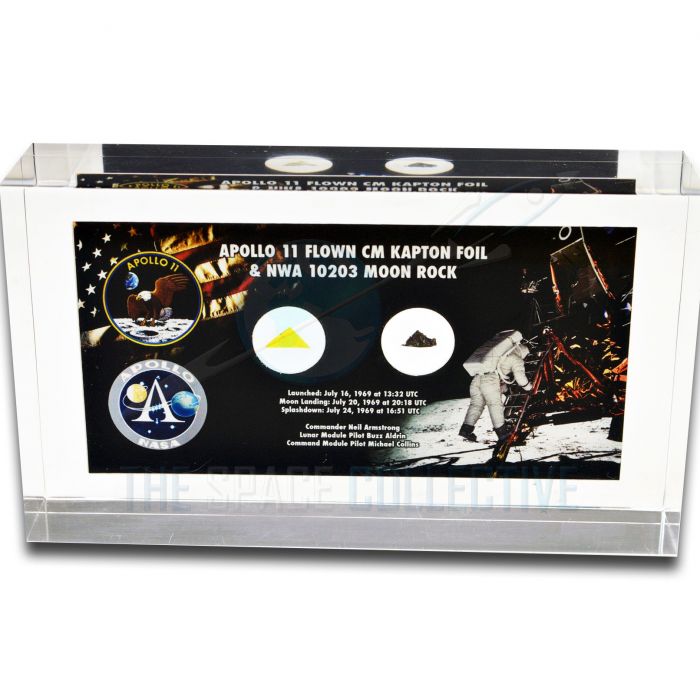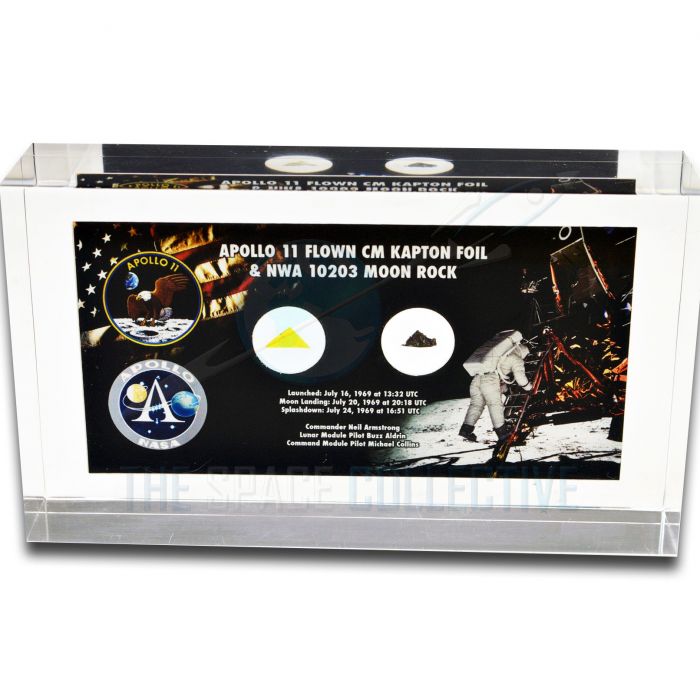 Apollo 11 Flown Kapton Foil & Moon Rock Lucite
A genuine segment of Apollo 11 flown Command Module "Columbia" kapton foil encased in lucite alongside a genuine NWA 10203 lunar meteorite.
DESCRIPTION
Apollo 11 Space Flown Kapton Foil: The flown material contained within this lucite is Kapton Foil taken from the Apollo 11 Command Module ''Columbia'' after its return to Earth. Kapton Foil, silver-coloured on the front with a gold backing, was attached to the outside skin of the Columbia in order to protect the fragile craft from the extreme environment of deep space. Because the foil was attached to the outside skin of the Columbia, the silver-coloured side was directly exposed to deep space.
NWA 10203 Moon Rock: The moon is constantly hit by meteorites and with no atmosphere and little gravity the larger impacts eject lunar rocks into space. After this impact, this meteorite will eventually be brought down to Earth by the Earth's gravitational pull. Scientists and universities all around the world examine meteorites and compare them with known lunar material, e.g. samples collected during the Apollo missions. The composition of gases and isotopes found is so unique that they can say for sure the material originated from the moon. The encased meteorite was acquired from Meteorite Hunter and Discovery Channel's ''Meteorite Men'' T.V. Star, Steve Arnold.
Product Information:
Overall Acrylic is 12cm x 7cm x 3cm
Space flown kapton foil measures approx. 7mm
Genuine moon rock weighs approx. 50-100mg
Comes in a white gift box bearing the Apollo Program insignia
Authentication Information:
The space flown material came from the collection of Rockwell Space Division veteran post-flight and safety recovery crew member O.W. Nasse. The material was removed from the Command Module "Columbia" external conical heat shield after splashdown.
Lifetime Guarantee of Authenticity:
All of our artifacts are thoroughly and extensively researched before being listed for sale, so much so that we're proud to offer a lifetime guarantee of authenticity for this and other artifacts listed throughout our website. We also hold a record of every piece we sell which can be identified and searched in our online database using the serial number listed on your certificate of authenticity.