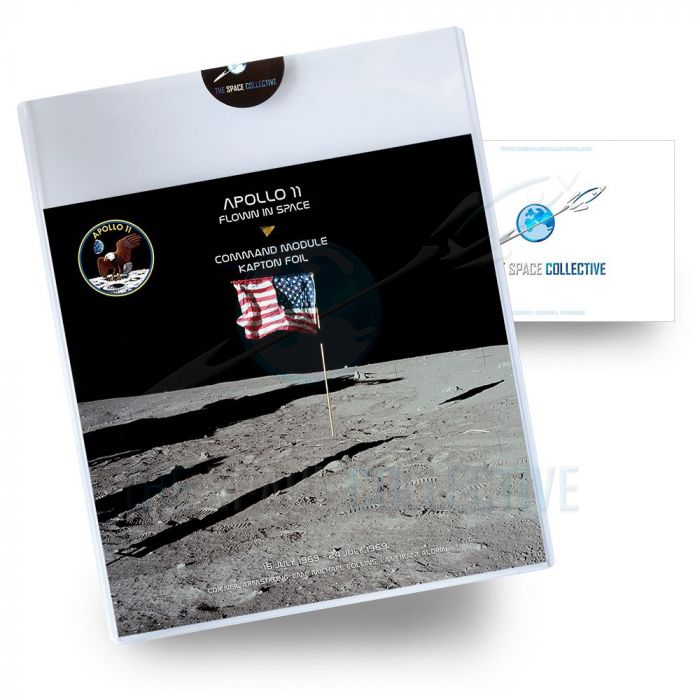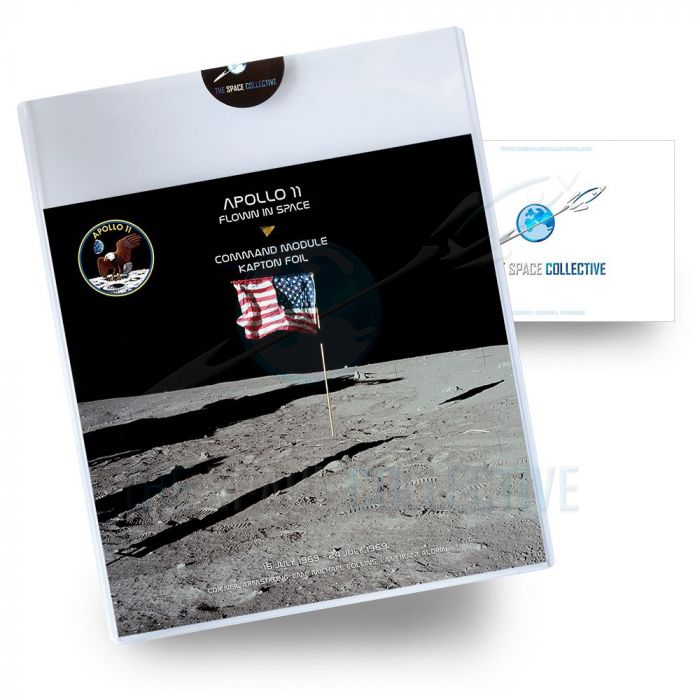 Apollo 11 Flown CM Kapton Foil Artifact #2
A genuine segment of Apollo 11 flown kapton foil from the Apollo 11 Command Module "Columbia" and comes attached to a mission photograph of the American flag on the lunar surface.
DESCRIPTION
This artifact presentation contains a genuine piece of Apollo 11 flown Command Module "Columbia" kapton foil. Kapton foil was part of the spacecrafts thermal protection subsystem and was applied in layers of 12, the purpose of which was to protect the crew and electronic systems from the solar radiation experienced in deep space. One side of the foil was gold and the exterior facing side was silver. During reentry into Earth's atmosphere much of this foil was burned away with the remains being stripped during post-flight operations and restoration.
Product Information:
Segment of genuine Apollo 11 Command Module kapton foil
Attached to an 8" x 8" Apollo 11 mission photograph of the American flag on the lunar surface
Printed on original glossy Fuji Crystal Archive Supreme® paper (226µ, 238 gr/m²)
Includes certificate of authenticity with holographic logo and company stamp
Comes sealed in a clear protective 8" x 10" toploader
Authentication Information:
The space flown material came from the collection of Rockwell Space Division veteran post-flight and safety recovery crew member O.W. Nasse. The material was removed from the Command Module "Columbia" external conical heat shield after splashdown.
Lifetime Guarantee of Authenticity:
All of our artifacts are thoroughly and extensively researched before being listed for sale, so much so that we're proud to offer a lifetime guarantee of authenticity for this and other artifacts listed throughout our website. We also hold a record of every piece we sell which can be identified and searched in our online database using the serial number listed on your certificate of authenticity.