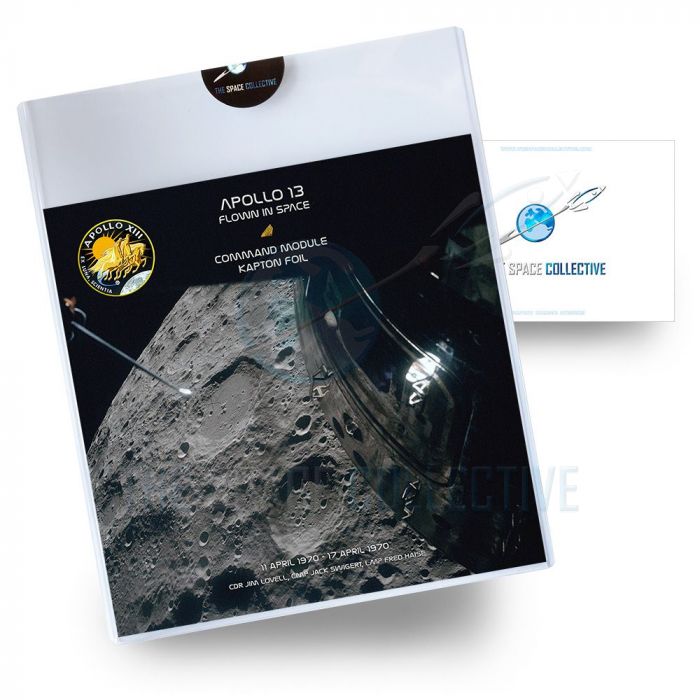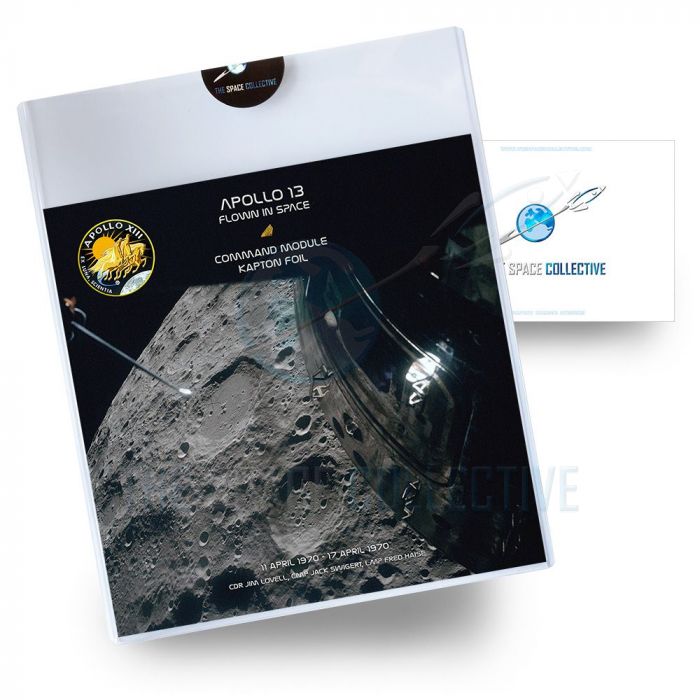 Apollo 13 Flown CM Kapton Foil Artifact
A genuine segment of Apollo 13 flown kapton foil from the Apollo 13 Command Module "Odyssey" and comes attached to a mission photograph of the Command Module orbiting the Moon.
DESCRIPTION
This artifact presentation contains a genuine piece of Apollo 13 flown Command Module "Odyssey" kapton foil. The pressure-sensitive polyimide tape insulation better known as kapton foil was part of the spacecrafts thermal protection subsystem. The function of the kapton foil was to protect the spacecraft electronic systems and crew from the solar radiation experienced in deep space. During reentry into Earth's atmosphere much of this foil was burned away with the remains being stripped during post-flight operations and restoration.
Product Information:
Segment of genuine Apollo 13 Command Module kapton foil
Attached to an 8" x 8" Apollo 13 mission photograph of the Command Module orbiting the Moon
Printed on original glossy Fuji Crystal Archive Supreme® paper (226µ, 238 gr/m²)
Includes certificate of authenticity with holographic logo and company stamp
Comes sealed in a clear protective 8" x 10" toploader
Authentication Information:
The space flown material came from the collection of well-known NASA employee Dick Williamson. Williamson was present on board the Iwo Jima, the vessel which recovered the Apollo 13 Command Module after the near fatal flight. It was after recovery where Williamson personally removed the kapton foil from the Odyssey Command Module.
Lifetime Guarantee of Authenticity:
All of our artifacts are thoroughly and extensively researched before being listed for sale, so much so that we're proud to offer a lifetime guarantee of authenticity for this and other artifacts listed throughout our website. We also hold a record of every piece we sell which can be identified and searched in our online database using the serial number listed on your certificate of authenticity.