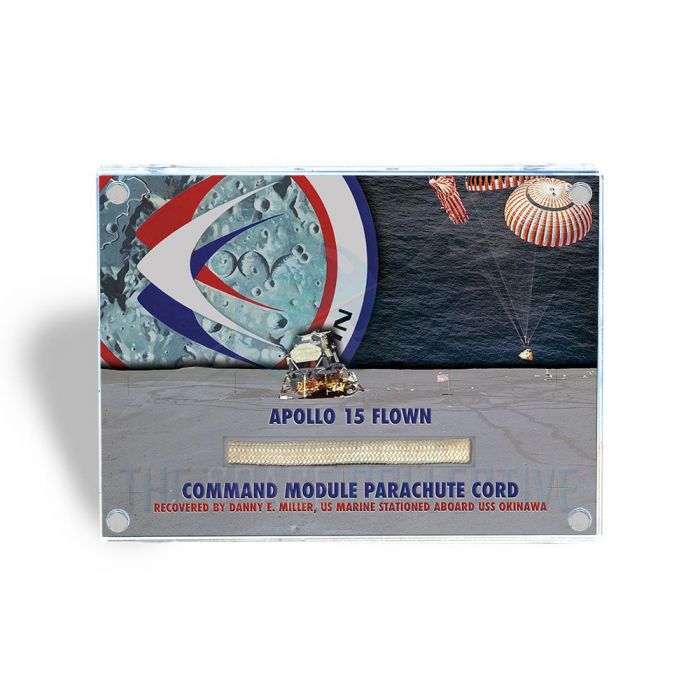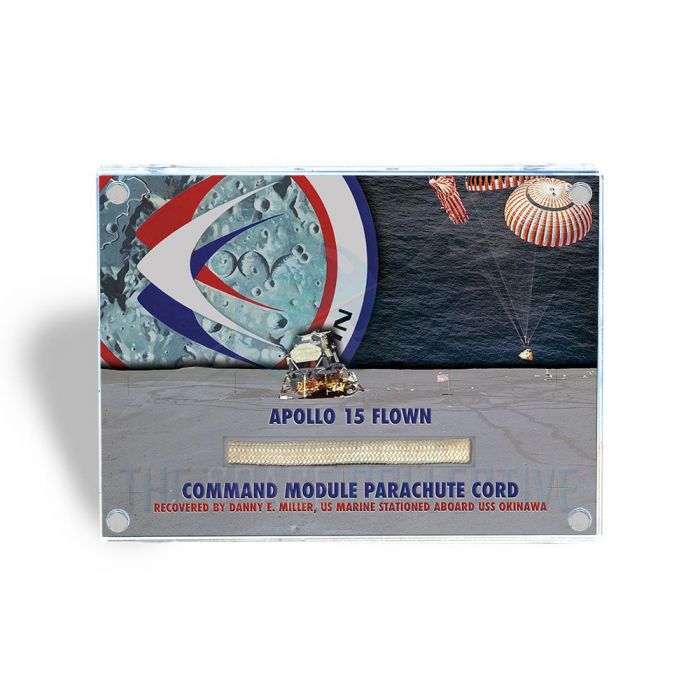 Apollo 15 CM Flown 3 inch Parachute Cord
A genuine 3" segment of Apollo 15 Command Module flown parachute cord encased in a removable acrylic block with magnetic clasps.
Limited Edition of 3 pieces.
DESCRIPTION
This is a genuine segment of Apollo 15 Command Module parachute cord which was recovered after splashdown in August 1971 by Danny E. Miller, a US Marine stationed aboard the recovery vessel.
As per normal procedure, after reentry into Earth's atmosphere and at 24,000 feet a pyrotechnic charge was detonated on the spacecraft to expose two sets of parachutes. The first parachutes to be deployed were the two drogue parachutes, these were designed to slow the spacecraft from 500 km/h to 280 km/h. Some 20 seconds later and at a height of around 10,000 feet the three main parachutes were deployed. The main parachutes were designed to slow the spacecraft's descent from 175 miles per hour to 22 hours per hour.
However, after deployment one of the spacecraft's main parachutes failed. Command Module Pilot Al Worden later reported that the parachutes did inflate correctly at first, but after dumping the Reaction Control System fuel, comprised of highly toxic hydrazine and dinitrogen tetroxide, he noticed that one of the three parachutes was no longer inflated. The post-flight analysis was inconclusive as to the reason but found that two or three of the six shroud lines were missing from the failed parachute and that the likely cause was the RCS fuel dump.
Fortunately for the crew, the loss of one of the three main parachutes was of no consequence for the capsule as it was designed to land safely on just two parachutes, with the third being a redundancy in the event of one parachute failing.
Product Information:
3" segment of genuine Apollo 15 Command Module parachute cord
Encased within a removable 10.5cm x 14.8cm x 2cm acrylic frame with magnetic locks
Includes a signed certificate of authenticity on the reverse
Limited Edition of 3 pieces
Authentication Information:
The space flown material came from the collection of Danny E. Miller, a United States Marine stationed aboard the Apollo 15 recovery vessel; the USS Okinawa. 
Lifetime Guarantee of Authenticity:
All of our artifacts are thoroughly and extensively researched before being listed for sale, so much so that we're proud to offer a lifetime guarantee of authenticity for this and other artifacts listed throughout our website. We also hold a record of every piece we sell which can be identified and searched in our online database using the serial number listed on your certificate of authenticity.