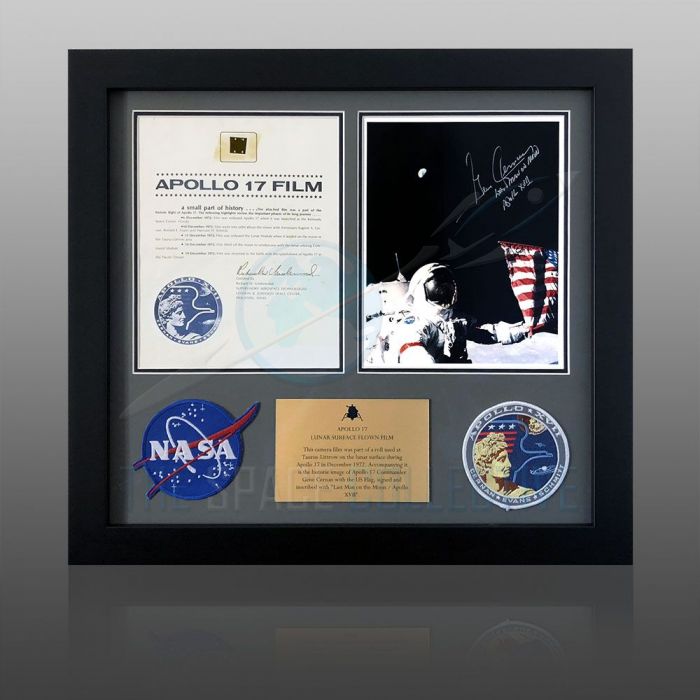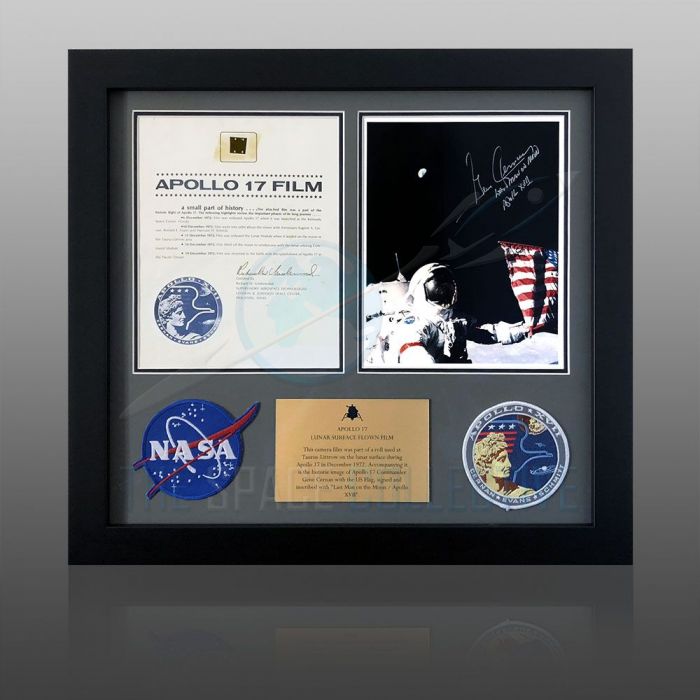 Apollo 17 Lunar Surface Flown Film & Cernan Autograph
This large segment of film was flown and used on the lunar surface during the Apollo 17 mission in December 1972. Also includes a signed lunar surface photo of astronaut Gene Cernan.
DESCRIPTION
This incredible Apollo 17 Lunar Module Flown Camera Film display is one of the most beautiful pieces of Apollo flown memorabilia we have ever had the pleasure to see. The photographic film measures approximately 0.75" x 0.75" and was part of a roll of photos taken at the Taurus-Littrow region on the surface of the moon. The Apollo 17 flown film itself is mounted to an attractive 8.5" x 11" printed certificate and is signed by "Richard W. Underwood"; he was Supervisory Aerospace Technologist at the Manned Spacecraft Center in Houston. The text gives a summarised history of the film from the launch of Apollo 17 all the way through to splashdown. Also included is a stunning 10" x 8" image of Commander Gene Cernan with the US Flag, signed and inscribed with "Last Man on Moon / Apollo XVII".
ABOUT THIS APOLLO 17 FLOWN FILM:
Genuine piece of Apollo 17 lunar surface film
Lunar surface flown film measures approx. 0.75" x 0.75"
Comes attached to a Certificate of Authenticity
Genuine Commander Gene Cernan Signed Photo
Includes an official NASA Patch
Includes an official Apollo 17 Patch
Overall frame measures approx. 21.5'' x 19.75''
Comes Beautifully Matted & Framed in Conservation Grade Materials