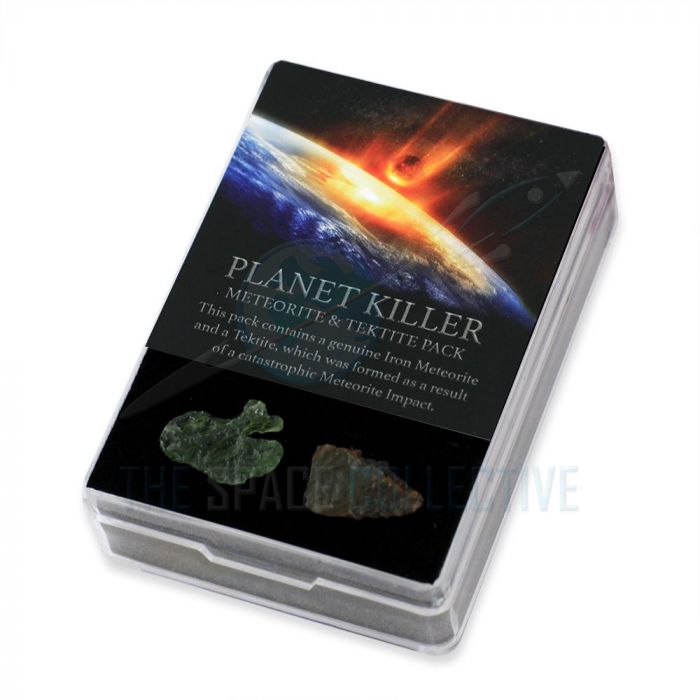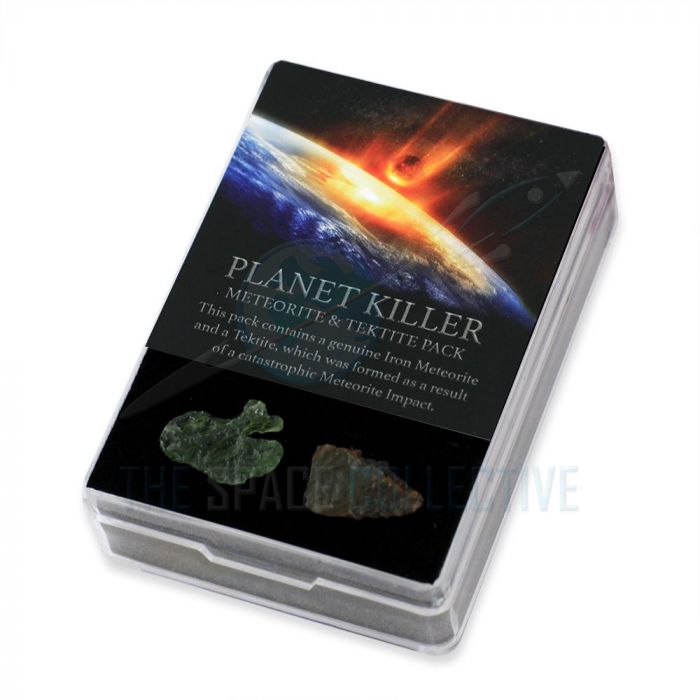 Planet Killer Tektite & Meteorite Gift Set
Genuine Nantan meteorite and Moldavite tektite contained with an acrylic display case, perfect for space gift giving.
DESCRIPTION
This amazing Planet Killer Tektite & Meteorite gift pack contains a genuine Nantan meteorite and a genuine Moldavite tektite! The boxed set of meteorites contains 2 amazing specimens in a clear acrylic case, ready for display or giving as an amazing space gift.
Product Information:
Contains 1 Nantan meteorite
Contains 1 Moldavite tektite
Comes in a clear acrylic display case
Display box measures 3.25" x 2.25" x1"
About Nantan Meteorites:
It is said that the fall of the Nantan meteorite was observed in 1516, but whether or not these were connected to the meteorites found in 1958 is a subject of debate. The Nantan meteorite exploded as it entered the atmosphere and pieces were scattered in a strewn field as far as 17 miles long (28 kilometers) and 5 miles wide (8 kilometers) near the city of Nantan, Guangxi, China. The name of the meteorite of course coming from the location of the impact, Nantan City. The fragments of the meteorite itself were not gathered until the growing industrialisation of China in the 1950s. During this time China would smelt ore to make metal, but the meteoric iron contained too much nickel to smelt effectively.
About Moldavite Tektite:
Moldavite is believed to have originated as a result of a catastrophic meteorite impact. When an enormous meteorite of several cubic kilometers plummets towards the Earth, the uppermost layers of the Earth's surface are melted by the highly compressed hot air cushion in front of the advancing meteorite moments prior to impact. At the moment of impact, there is a tremendous explosion comparable with multiple nuclear bombs, the atmosphere is torn apart, and Moldavite tektites are formed in the vacuum bubble.