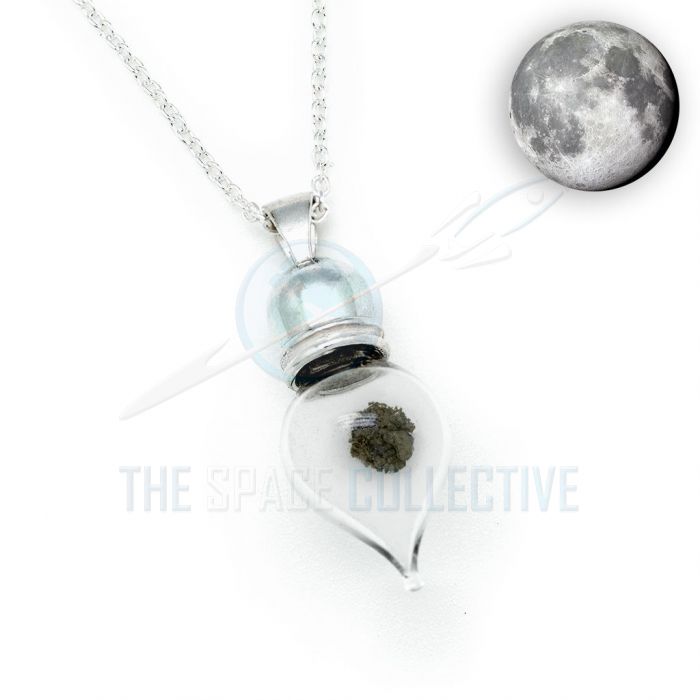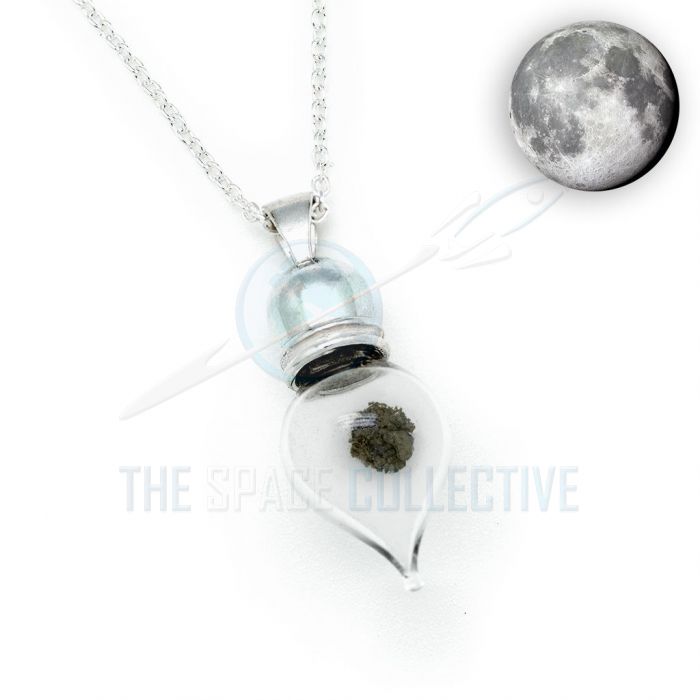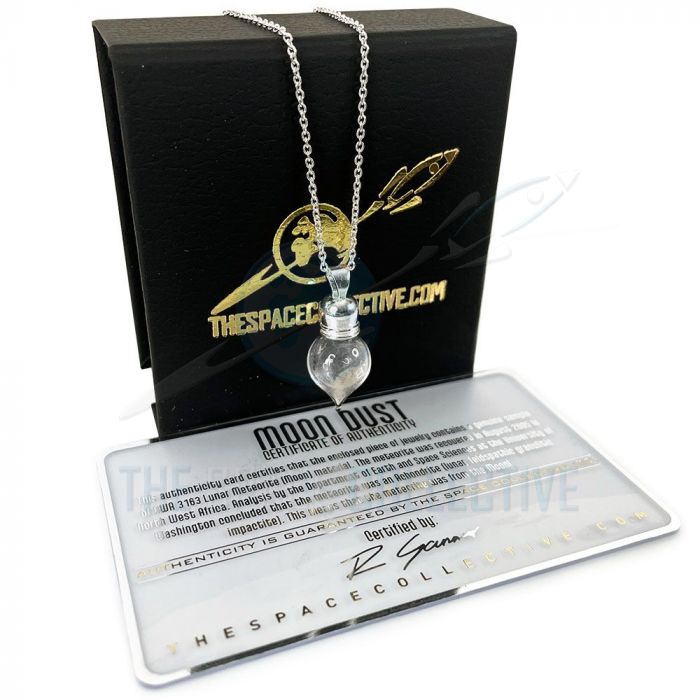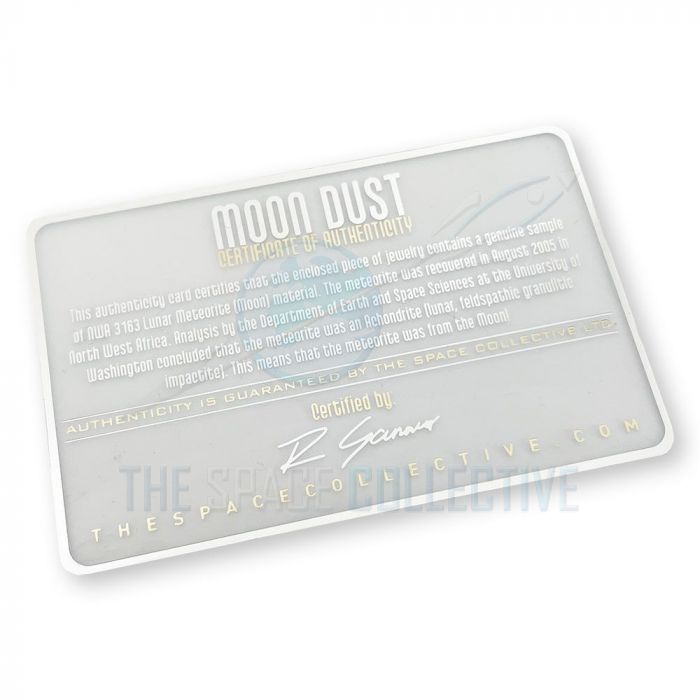 Sterling Silver Moon Dust Necklace
Take the person you love most in the Universe to the Moon and back with our genuine Moon Dust Pendant!
DESCRIPTION
Our moon dust necklace contains a genuine sample of moon dust. It isn't a replica, it is 100% genuine! You can literally hold a piece of the Moon in your hands. Just picture it, you're looking up at the night sky and see the Moon glowing... then you look down at the moon dust hanging close to your heart. Or perhaps it is a gift? To that, we say what could be more romantic than giving somebody the Moon?
Product Information:
Contains approx. 20mg of genuine moon dust
Cap is made from 925 solid sterling silver
Pendant measures approx. 2.8cm x 1.2cm (1.1" x 0.47")
The vial is made from a clear, strengthened glass
Includes 20-inch 925 sterling silver necklace
Comes in an elegant gift box
Includes a certificate card of authenticity
Includes an individual meteorite registration number (i.e. NWA 4881)
Nickel-free
But how does a Lunar meteorite end up here on Earth?
Well, the answer may surprise you! Look up at the Moon and you will see that it is covered in craters, this is because there is no tectonic plate movement unlike here on Earth. These craters were caused after space debris crashed into the Moon over the course of its long life. When a sizeable object impacts the Moon, debris is flung into space. Eventually, some of this debris is caught by the Earth's gravitational pull and lands here on Earth. When this lunar rock tumbles to Earth, it becomes known as a meteorite. Hunters and collectors will go in search of said meteorites, but one must be very fortunate to find a lunar meteorite as they comprise of less than 1% of all meteorites found here on Earth! Fascinating, isn't it?
You can read more about the moon dust composition of the dust contained within this vial by clicking here.
Authentication Information: The moon dust contained within was collected while cutting a lunar meteorite. The meteorite was sourced from one of the most respected collectors of planetary meteorites in the world. The meteorites we use in our pendants have been analysed and authenticated by a top laboratory and given an official meteorite number, thus ensuring its absolute authenticity. This serial number can be used on the International Society for Meteoritics and Planetary Science website where a complete analysis and composition breakdown is publicly available.
About our Meteorite Jewellery: We take great pride in offering a diverse range of meteorite pendants that represent the many intergalactic wonders of our incredible Universe. All of our pendants are cast from solid sterling silver, are handmade in the United Kingdom and the meteorites are handpicked for their size, shape, and quality. We're known for crafting the most elegant space pendants and this is a standard we will always uphold.
Allergy Advice: The sterling silver pendant, vial, and necklace are nickel-free.